SAFe® for Architects (ARCH) training
Attendees can improve collaboration and alignment in a SAFe® Lean-Agile enterprise when they become a SAFe 5 Architect. The SAFe® for Architects course prepares System, Solution, and Enterprise Architects to engage across the organization as effective leaders and change agents who collaboratively deliver architectural solutions. During this three-day course, attendees will explore the roles, responsibilities, and mindset of Agile Architects, and appreciate how to align architecture with business value and drive continuous flow to large systems-of-systems while supporting SAFe program execution.
This course is for senior technical contributors who need to understand the role of System, Solution, and Enterprise Architects in Lean-Agile enterprises. The course is also appropriate for individuals desiring a deeper view into how architecture enables continuous value flow and how architects engage in, and contribute to, a Lean-Agile enterprise.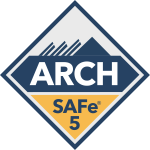 Course Description
Curriculum
Target Audience
Certification Exam
Course Description
Topics covered:
Exemplifying Lean-Agile architecture
Architecting for DevOps and Release on Demand
Aligning architecture with business value
Developing Solution Vision, Solution Intent, and Roadmaps
Preparing architecture for Program Increment (PI) Planning
Coordinating architecture throughout PI Planning
Supporting Continuous Delivery during PI execution
Supporting new Strategic Themes and Value Streams
Leading as an architect during a Lean-Agile transformation
What attendees get:
The class registration includes:
Attendee workbooks
Eligibility to take the SAFe® 5 Architect (ARCH) exam
One-year membership to the SAFe Community Platform
Course certificate of completion
Professional Development Units (PDUs) and Scrum Education Units (SEUs)
Attendees may be eligible to apply for 15 PDUs toward their continuing education requirements with the Project Management Institute (PMI) for PMP, PgMP, and PMI-ACP certifications.
Attendees may be eligible to apply for SEUs under Category C, toward earning or renewing their CSP through Scrum Alliance.
Curriculum
Target Audience
Certification Exam
Included in this training
Looking for in-company training?
In-house training sessions allow us to tailor our training contents to your specific company context, within the bounds of the required course curriculum and with certification requirements kept in mind. As a closed event, courses can be scheduled according to your preferred timing requirements. In this case, the host will be expected to provide the venue and several prerequisites for the training, though our trainers are happy to help you prepare.