SAFe® Agile Software Engineering (ASE) training
The discipline of software engineering has evolved over the past decades with the introduction of Lean-Agile and DevOps principles and practices. New skills and approaches help organizations deliver software-centric solutions faster, more predictably, and with higher quality. During this three-day, workshop-oriented course, attendees learn the foundational principles and practices that make up the Agile Software Engineering discipline.
Attendees will learn how continuous flow of value delivery and building quality in are enabled by modern practices including XP technical practices, Behavioral-Driven Development (BDD), and Test-Driven Development (TDD). Attendees will learn proven practices to detail, model, design, implement, verify, and validate stories in a SAFe Continuous Delivery Pipeline. They will know the practices that build quality into code (abstraction, encapsulation, intentional programming) and designs (SOLID, Design patterns). Attendees will also understand how Software Engineering fits into the larger solution context and their role in collaborating on intentional architecture and DevOps.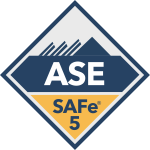 Course Description
Curriculum
Target Audience
Certification Exam
Course Description
Topics covered:
Introduction to Agile Software Engineering
Connecting Principles, and Practices to Built-In Quality
Accelerating Flow
Applying Intentional Architecture
Thinking Test-First
Discovering Story Details
Creating a Shared Understanding with Behavior-Driven Development (BDD)
Communicating with Models
Building Systems with Code Quality
Building Systems with Design Quality
Implementing with Quality
What attendees get:
The class registration includes:
Student Workbook
Preparation and eligibility to take the exam
One-year membership to the SAFe Community Platform
Certification of completion
Certified SAFe® 5 Agile Software Engineer certification upon passing of exam
One Certification exam attempt (re-takes at an additional fee)
Professional Development Units (PDUs) and Scrum Education Units (SEUs)
Attendees may be eligible to apply for 20 PDUs toward their continuing education requirements with the Project Management Institute (PMI) for PMP, PgMP, and PMI-ACP certifications.
Attendees may be eligible to apply for SEUs under Category C, toward earning or renewing their CSP through Scrum Alliance.
Curriculum
Target Audience
Certification Exam
Included in this training
Looking for in-company training?
In-house training sessions allow us to tailor our training contents to your specific company context, within the bounds of the required course curriculum and with certification requirements kept in mind. As a closed event, courses can be scheduled according to your preferred timing requirements. In this case, the host will be expected to provide the venue and several prerequisites for the training, though our trainers are happy to help you prepare.