Leading SAFe® (SA) training
During this two-day course, attendees will gain the knowledge necessary to lead a Lean-Agile enterprise by leveraging the Scaled Agile Framework® (SAFe®), and its underlying principles derived from Lean, systems thinking, Agile development, product development flow, and DevOps. They will discuss the five competencies needed to become a Lean Enterprise. They will also learn and practice the skills for supporting and executing PI Planning events, and coordinating multiple Agile Release Trains (ARTs).
Attendees will gain an understanding of the Lean-Agile mindset, why it's so effective in today's adapt-or-die marketplace, and what it means to lead a Lean-Agile transformation. They'll also learn how to build and support Agile teams and programs, empower a Lean Portfolio, build a Continuous Delivery Pipeline and DevOps culture, and coordinate large solutions. They will develop a skillset that's in demand worldwide—and empower their enterprises to succeed in a disruptive marketplace—when they become a SAFe® 5 Agilist (SA).
Attending the class prepares individuals to take the exam and become a certified SAFe® Agilist (SA).
Through experiential learning, attendees will examine the RTE role in a Lean-Agile transformation. They will learn how to facilitate ART processes and execution, coach leaders, teams, and Scrum Masters in new processes and mindsets. They will also learn how to prepare, plan and execute a Program Increment (PI) planning event, the primarily enabler of alignment throughout all levels of a SAFe organization.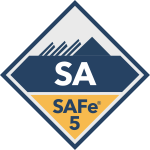 Course Description
Curriculum
Target Audience
Certification Exam
Course Description
Topics covered:
Introducing the Scaled Agile Framework (SAFe)
Becoming a Lean-Agile Leader
Establishing Team and Technical Agility
Experiencing Program Increment (PI) Planning
Releasing on Demand with DevOps
Building Business Solutions and Lean Systems
Implementing Lean Portfolio Management
Leading the transformation
What attendees get:
The class registration includes:
Attendee workbook
Preparation and eligibility to take the SAFe® 5 Agilist exam
One year membership to the SAFe Community Platform
Course certificate of completion
Attendees must attend both days of the course in order to be eligible for the exam.
Professional Development Units (PDUs) and Scrum Education Units (SEUs)
Attendees may be eligible to apply for 15 PDUs toward their continuing education requirements with the Project Management Institute (PMI) for PMP, PgMP, and PMI-ACP certifications.
Attendees may be eligible to apply for SEUs under Category C, toward earning or renewing their CSP through Scrum Alliance.
Curriculum
Target Audience
Certification Exam
Included in this training
Looking for in-company training?
In-house training sessions allow us to tailor our training contents to your specific company context, within the bounds of the required course curriculum and with certification requirements kept in mind. As a closed event, courses can be scheduled according to your preferred timing requirements. In this case, the host will be expected to provide the venue and several prerequisites for the training, though our trainers are happy to help you prepare.